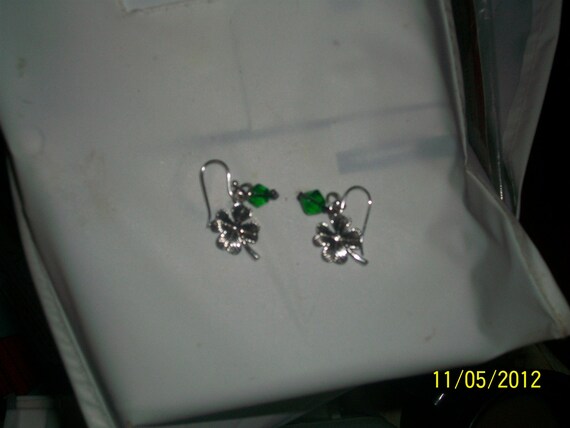 These are my four leaf clover earrings. They are made from one silver four-leaf clover charm with a green bead on a separate purple colored copper wire. The ear wire is silver plated copper and the entire piece is 1 7/16" from the top loop of the ear wire to the bottom of the clover stem.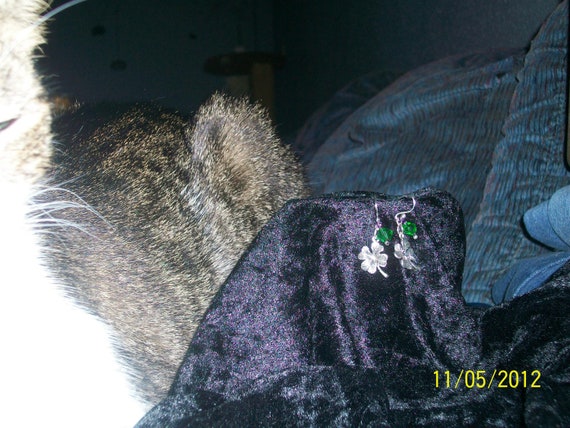 The inspiration for these came from the fact that I liked the way the charms looked,but I really love green (plus, it is the color for St. Patrick's Day) and I thought it would look cool if the beads dangled in front of the charms.
That's Wolfram there. He refused to leave until I took his picture.
These are the first pair of earrings I made for Bats Bizarre. Like my starfish earrings (the second pair), they were originally going to feature Swarovski crystals until I read the warning about lead on the back of the package. Back to the store they went. And switched to using glass beads. They cost $12 plus $2.50 for shipping. As I've mentioned before Bats Bizarre doesn't ship jewelry internationally. Buy your own pair at
https://www.etsy.com/listing/114116129/silver-and-green-four-leaf-clover

I think they'll be great for St. Patrick's Day, especially paired with my four leaf clover choker; viewable at
https://www.etsy.com/listing/118288635/four-leaf-clover-choker-necklace
Thank you for reading Bats Bizarre's official blog. Have a bat-tastic day!